Product Details
Key Features
Realistic 1967 Chevrolet C10 Truck body
True, full-time 4-wheel drive
3-Link front and 4-link rear suspension for optimal handling
Full ball bearing drivetrain
Realistic steel frame rails for added strength
In The Box
(1) Axial® SCX24™ 1967 Chevrolet C10 Truck 1/24 Scale RTR
(1) Axial® AX-4 2.4GHz Radio System
(1) Axial® AS-1 Servo
(1) Axial® AE-6 ESC/Receiver Combo
(1) USB Charger (DYNC1062)
(1) Dynamite® 88T 030 Brushed Electric Motor
(1) Dynamite® 350mAh 2S LiPo 7.4V Battery Pack (DYNB0012)
(4) "AA" Batteries for the Transmitter
(1) 1/24 SCX24 1967 Chevrolet C10 4WD Manual
Needed to Complete
Nothing! Everything you need to begin having fun with the 1/24 1967 Chevrolet C10 4WD Truck is included!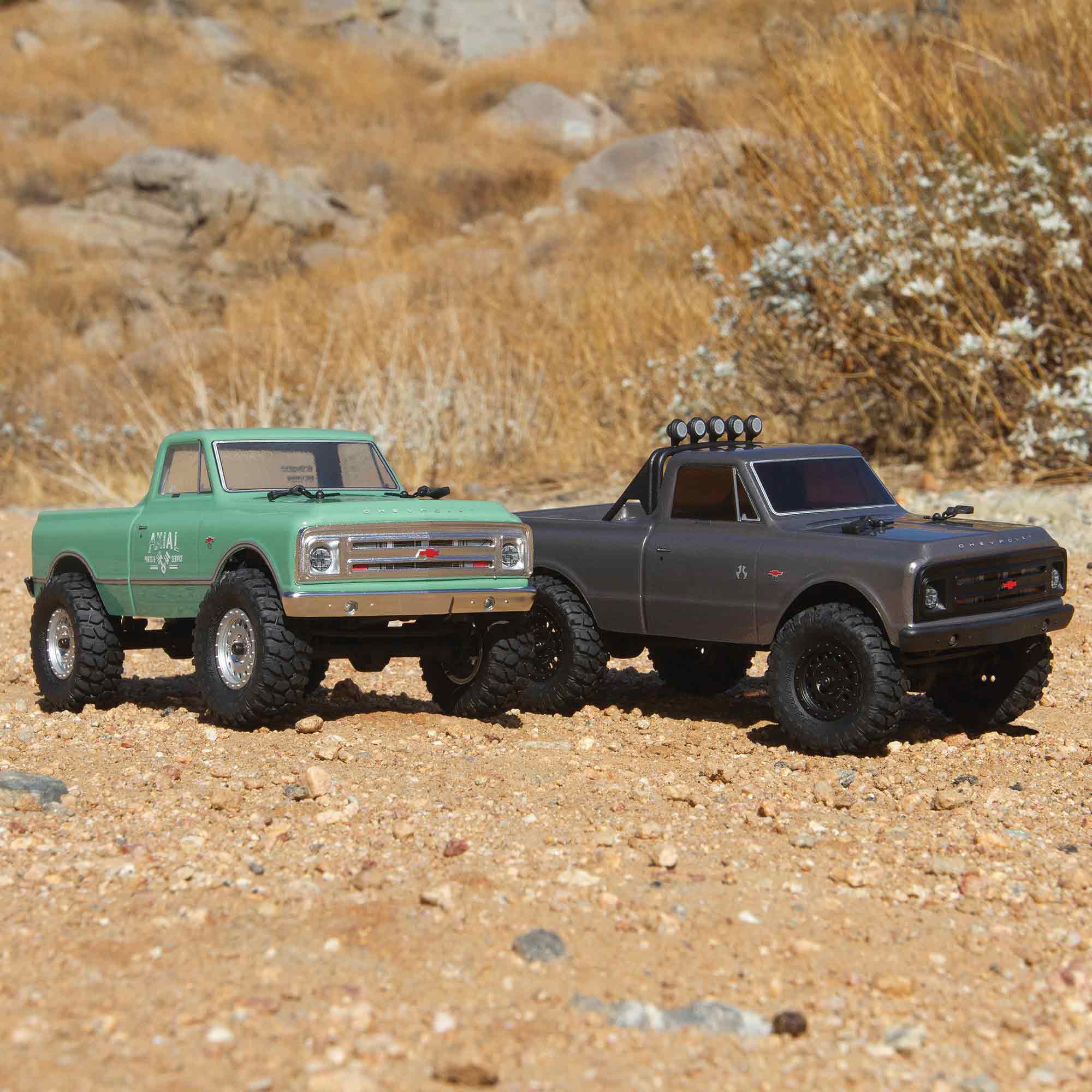 Features
Axial® AS-1 servo with servo saver
Dynamite® 7.4V 350mAh 30C LiPo battery
Dynamite® 030-size, 88T Brushed Electric Motor
Realistic 1967 Chevrolet C10 Truck body
Two bright LEDs in front bumper for night driving
True, full-time 4-wheel drive
3-Link front and 4-link rear suspension for optimal handling
Worm drive gears for front and rear axles that add ground clearance
Realistic steel frame rails for added strength
Hinged body system for easy access to on-board components
Full ball bearing drivetrain
Licensed wheels modeled after 1:1 Method Wheels
Licensed tires modeled after 1:1 BF Goodrich Tires
Overview
The detailed, ready-to-run 1967 Chevrolet C10 Truck is the latest model in the popular SCX24™ series from Axial® Racing. Its compact, versatile 1/24 scale size opens up almost any environment to spur-of-the-moment RC crawling expeditions. When it's time for a break at work, set up an obstacle course with items on your desk for the SCX24™ Chevrolet C10 Truck to negotiate. Any room at home can also become the setting for exciting feats and contests. If you'd rather run outdoors, go for it! Collect some twigs and marble-size rocks, dig a few holes, and soon you'll have a challenging trail for fresh air adventuring. Your truck's water-resistant electronics save you from having to worry about wet track conditions when you crawl.

With its realistic steel chassis frame rails, steel front and rear axles, and steel dogbones, this model has the strength to deliver Axial®-caliber crawling performance even in 1/24 scale. It's designed to keep right on running through rough trails and tough climbs. The SCX24™ 1967 Chevrolet C10 comes ready-to-run with all of the electronics, transmitter, receiver, servos, motor, ESC, batteries and charger included.
Video Overview
Support Video Playlist
SMALL SCALE, BIG PERFORMANCE
You expect solid performance from Axial® and the SCX24™ 1967 Chevrolet C10 delivers, with engineering and equipment that pulls the greatest potential from its compact size. The included Dynamite™ 88T brushed electric motor supplies the torque you need to get up and over most obstacles. And despite the dimensions, it's a pretty capable rock crawler, too! We've also included extra suspension links for adjusting your wheelbase length.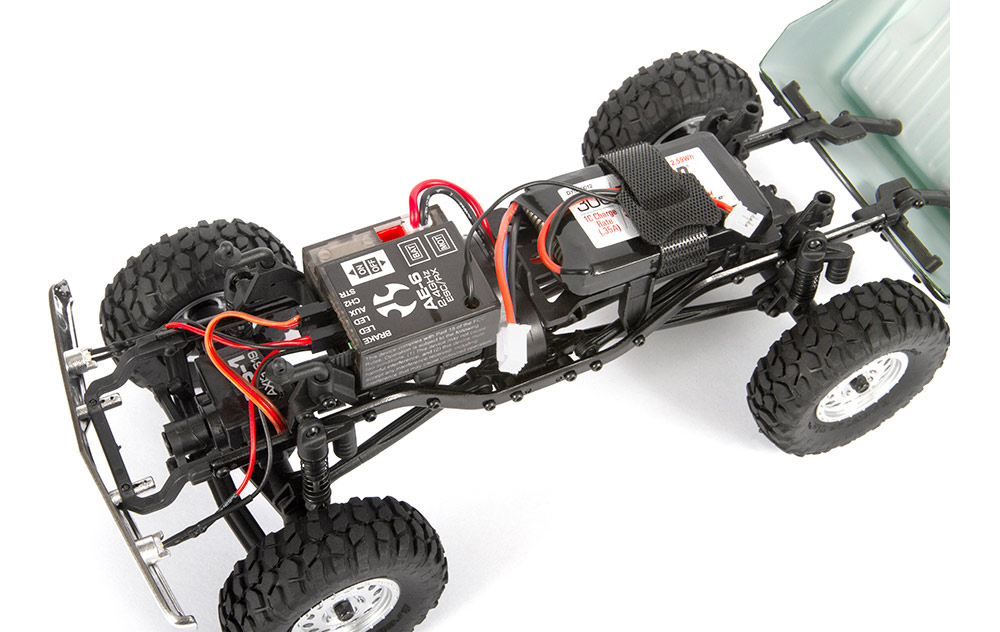 HINGED BODY SYSTEM
The hinged body system offers easy access to on-board components. You can quickly reach the battery and chassis by removing two body clips and swinging the body up.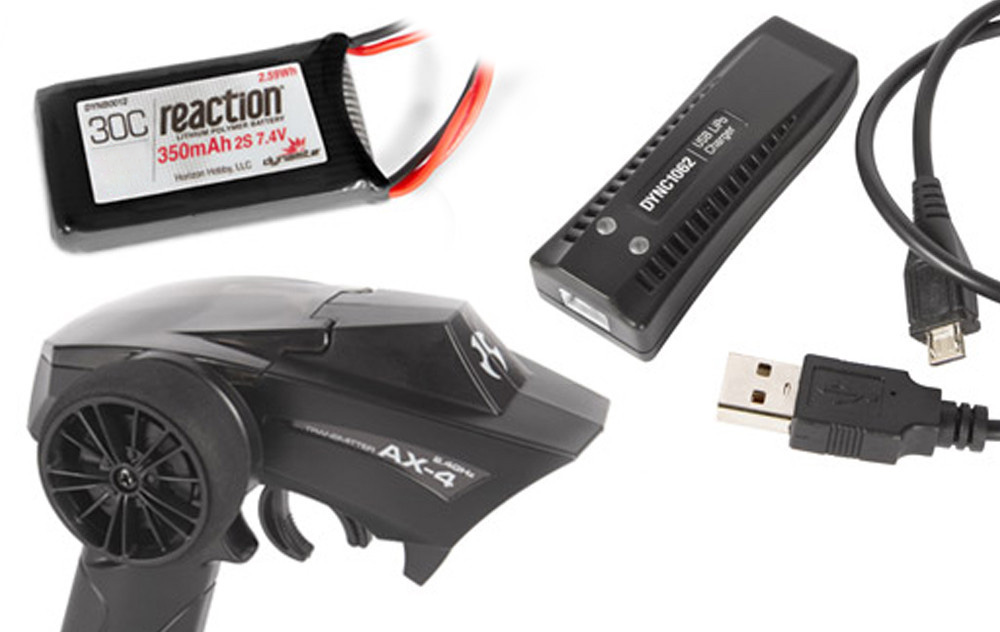 EVERYTHING IS INCLUDED!
The SCX24™ includes everything you need to get going. The product is fully assembled, and we've included batteries for the transmitter, and a LiPo battery pack and USB charger.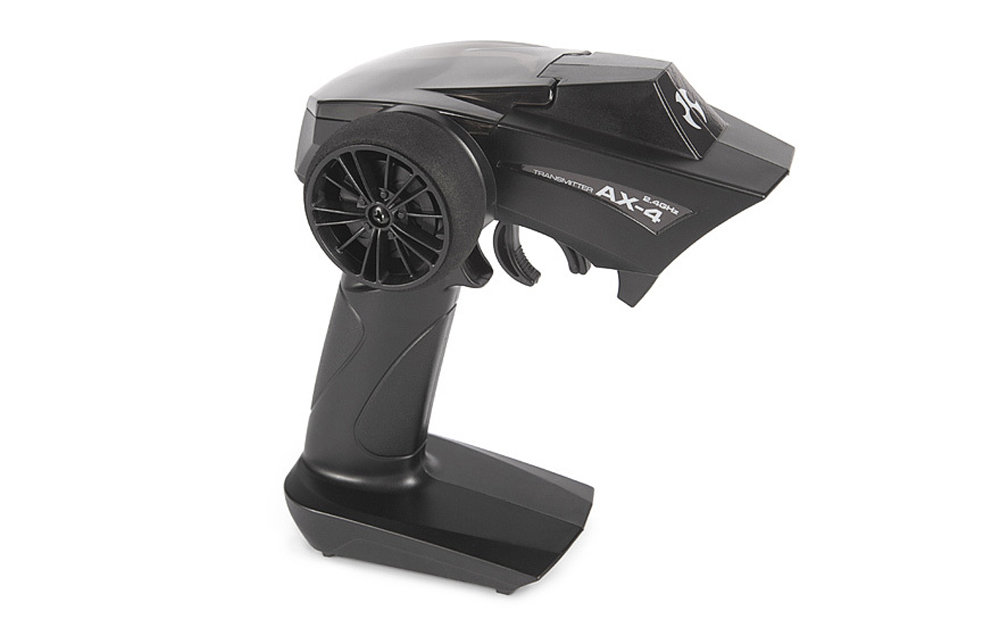 AX-4 2.4Ghz TRANSMITTER
The AX-4 transmitter features a throttle trim knob for low, medium, and high speed setting, a switch for steering servo reversing, steering dual rate, a switch for third channel applications (aux port on the ESC/Receiver), steering trim, battery level indicator, a bind button, and on/off switch. The AE-6 ESC/Receiver features a jumper for setting one of two brake options (brakes, or instant reverse), two LED light ports, an auxiliary port (channel 3), a channel 2 port, and a steering servo port.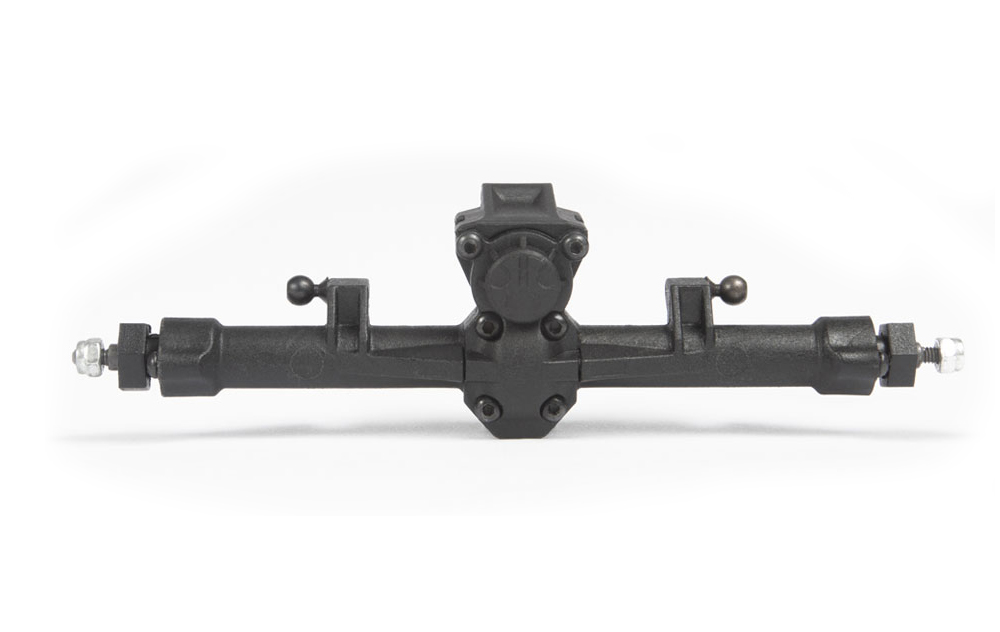 FRONT AND REAR SOLID AXLES
The front and rear axles consist of a two piece, molded plastic solid axle design. For optimal handling, the SCX24™ suspension features a three-link front and four-link rear setup.
STEEL C-CHANNEL CHASSIS FRAME RAILS
Just like the 1/10th scale SCX10™ platform, the SCX24™ chassis features rugged and sturdy steel c-channel frame rails with bracing to keep everything intact and aligned.

DYNAMITE 88T BRUSHED MOTOR
The Dynamite 88T brushed electric motor provides the right amount of torque to help ascend steep climbs. It's mated to a steel motor mount to keep flex to a minimum, which helps protect the gears.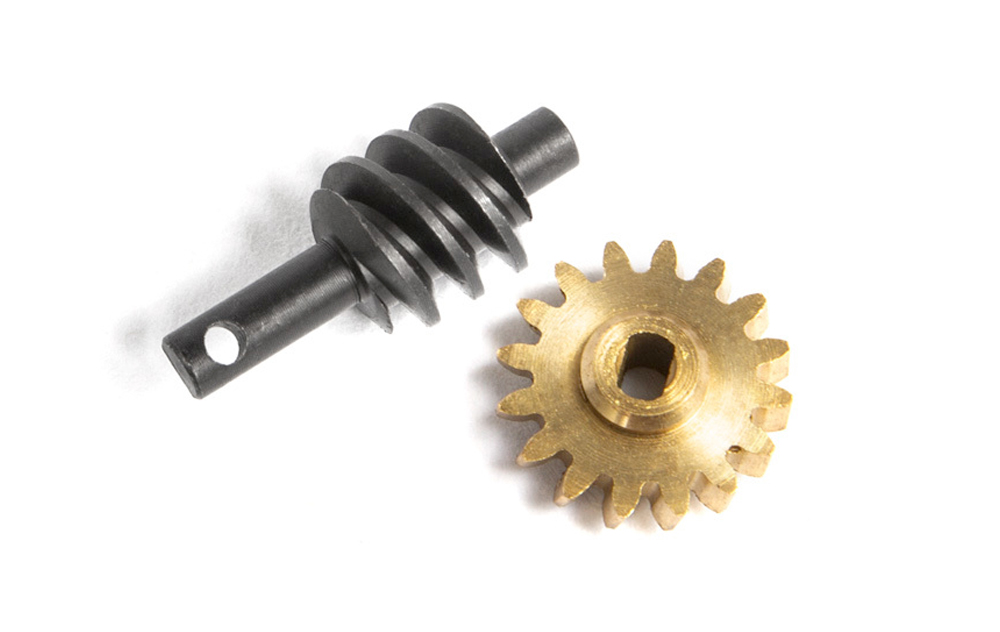 WORM GEARS
The front and rear differentials each house a worm screw and worm gear setup to get the power to the axles and create higher ground clearance.
DURABLE STEEL AXLES
Steel front and rear axles, front stub axles along with steel dogbones provide strength and durability to keep things running during tough climbs and rough trails.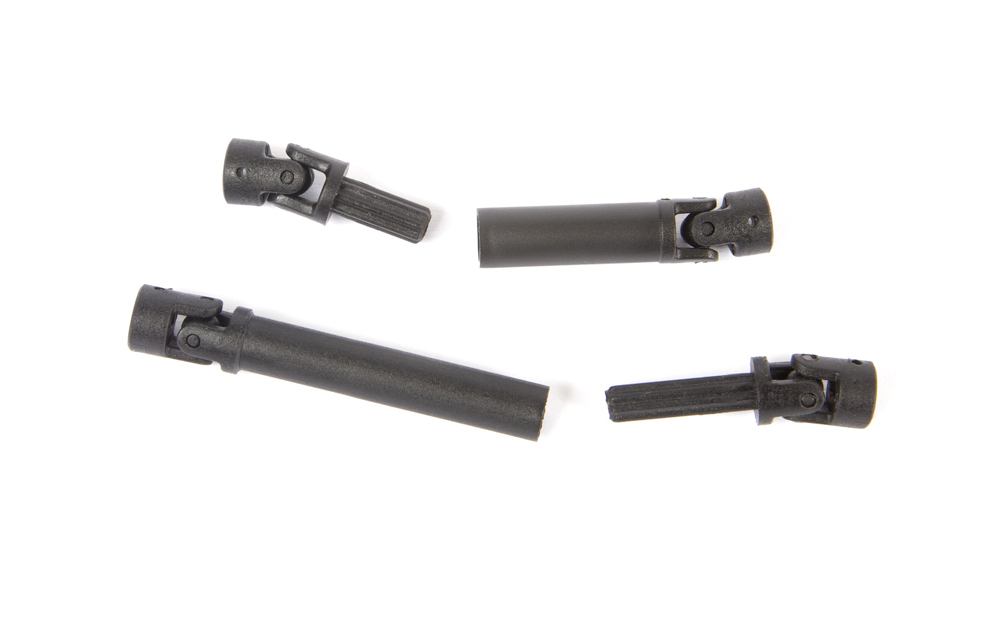 SPLINED DRIVE SHAFTS
The front and rear drive shafts are splined and sleeved to allow for maximum suspension travel while keeping the power to the wheels.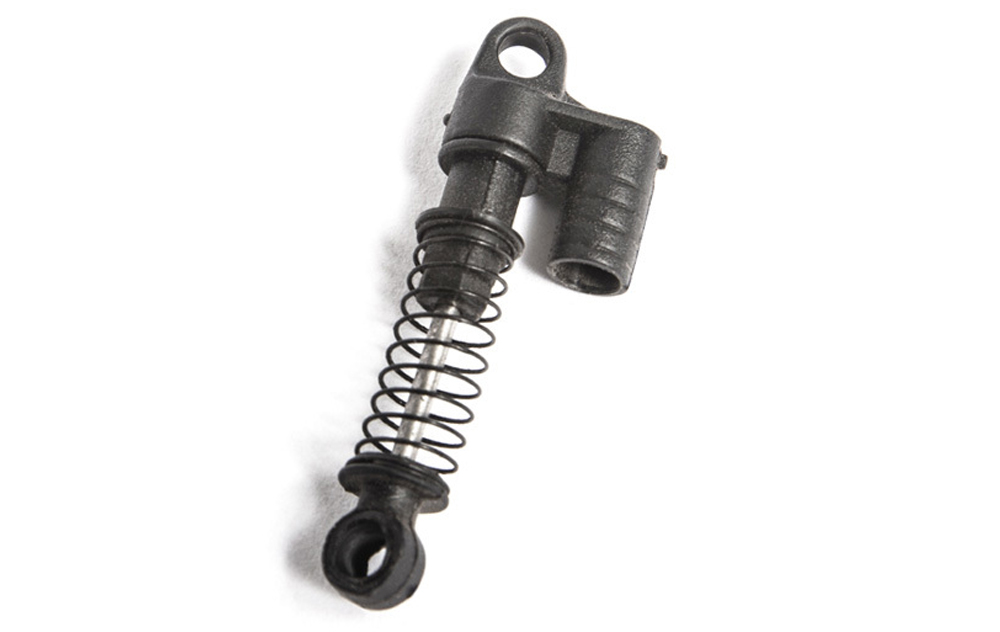 COILOVER SHOCK ABSORBERS
Even at this small scale, the combination of coilover shocks with simulated reservoirs and durable plastic suspension links delivers the crawling performance you've known and expect from Axial. #AXIALPERFORMANCE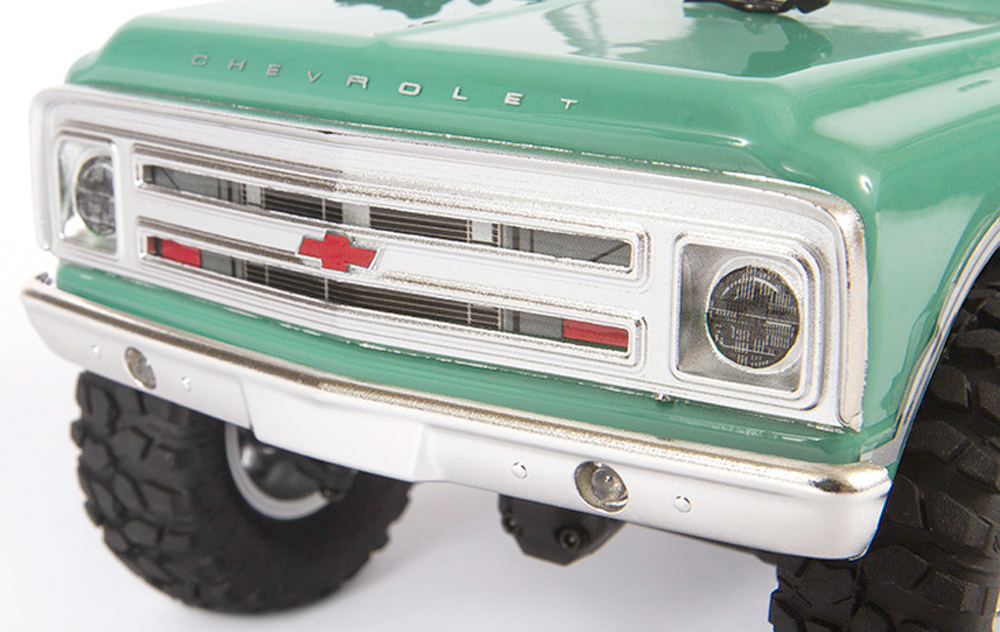 LED LIGHTS INCLUDED
Two bright LED lights are included and are mounted in the front bumper. An extra LED light port on the ESC allows you to add optional LED lights.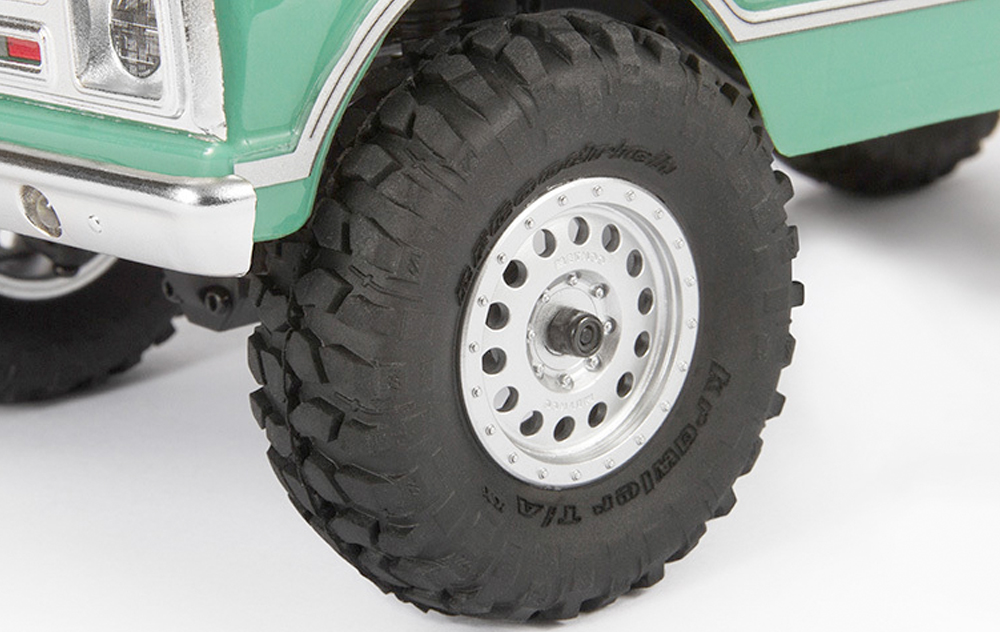 METHOD MR307 HOLE WHEELS & BFGOODRICH® KRAWLER™ T/A® KX TIRES
The MR307 Hole is a fresh take on the classic hole-wheel design that dominated early off road racing. Just like the Double Standard and NV, the Hole features a simulated beadlock ring by way of a strategically placed under-cut on the outer lip of the wheel. BFGoodrich Krawler™ T/A® KX tires are the winner of more rock-crawling championships than all other tires combined (Race spec tire, Years 2004 through 2008). The Axial version captures the same aggressive look you've been waiting for in a smaller 1/24 scale version.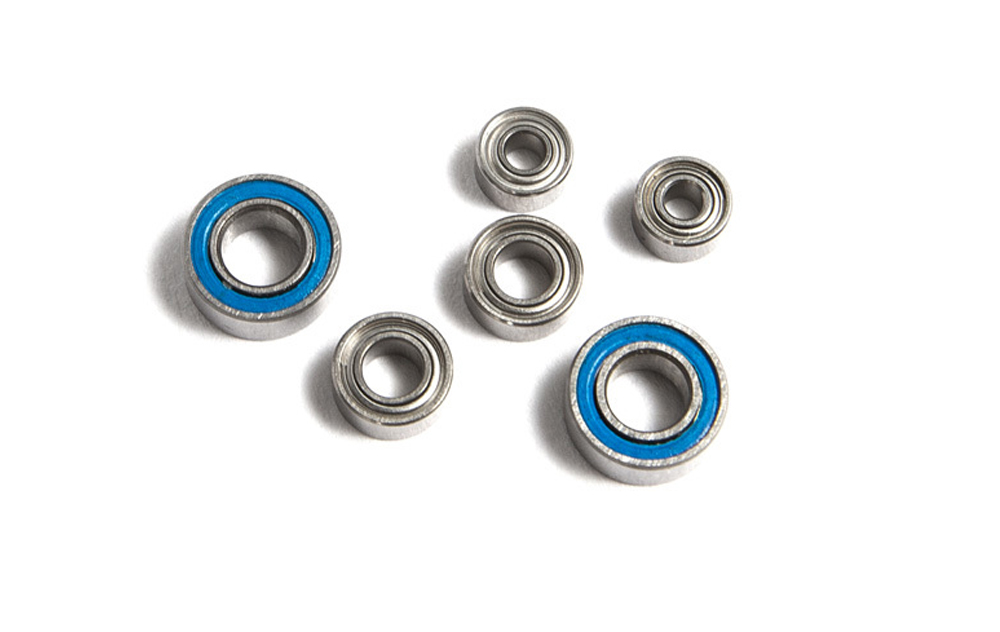 FULL BALL BEARINGS
Just because the SCX24™ is smaller in size doesn't mean the features need to follow suit. No bushings found here, instead the drivetrain is freely spinning on sealed cartridge bearings throughout the entire vehicle.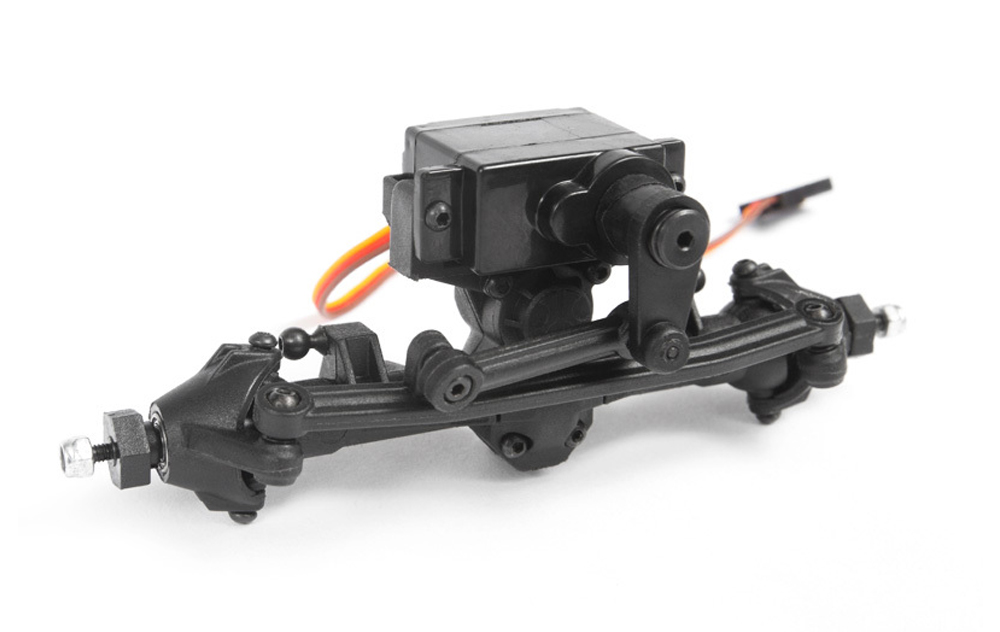 AXIAL AS-1 SERVO
Mounted just above the front axle is the Axial AS-1 servo, with a servo saver that allows for steering accuracy, while also providing protection for the servo gears in the event of a bind or impact.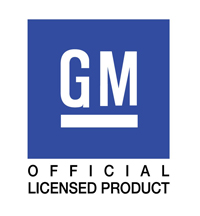 ©2020 Horizon Hobby, LLC. Axial, the Axial logo, SCX10, SCX24, Dynamite, and the Horizon Hobby logo are trademarks or registered trademarks of Horizon Hobby, LLC. General Motors Trademarks are used under license to Horizon Hobby, LLC. BFGoodrich and the BFGoodrich logo are trademarks of Michelin Lifestyle Limited, used under license. Method Race Wheels and associated logos are property of Method Race Wheels, used under license. All other trademarks, service marks and logos are property of their respective owners.

NOTE: Prototype shown. Some imagery may differ from the actual product.

Product Specifications
| | |
| --- | --- |
| Product Weight | 8.0 oz (0.22kg) |
| Tire Tread | Trail Grappler |
| Vehicle Type | Rock Crawler |
| Water-Resistant | Yes |
| Power Type | Electric |
| Servos | Included |
| Charger | Included |
| Differential | Worm gear 16T/4T |
| Receiver | Included |
| Shock Type | Plastic body, coil over, friction .9-1.3" (24-33.4mm) |
| Motor Type | Brushed |
| Rear Track | 3.9 in (99.5mm) |
| Speed Control | Included |
| Wheelbase | 5.2" (132 mm) |
| Chassis | Stamped steel rails |
| Completion Level | Ready-To-Run |
| Drivetrain | 4WD |
| Drive Type | Forward/Brake/Reverse |
| Product Height | 3.6" (91 mm) |
| Ball Bearings | Full set |
| Front Track | 3.9 in (99.5mm) |
| Outer Diameter | 1.88" (48 mm) |
| Product Width | 3.9" (99 mm) |
| Radio | Included |
| Approximate Assembly Time | None |
| Body | Trimmed and painted Axial 1967 Chevrolet C10 pickup |
| Brakes | Integrated with ESC |
| Pinion | 10T |
| Scale | 1/24 |
| Battery | Included |
| Connector Type | PH 2.0 (High-Current Ultra Micro) |
| Ground Clearance | 1.06" (27mm) |
| Motor Size | 030 Brushed Electric Motor |
| Product Length | 8.6" (218 mm) |
| Spur Gear | 55T |
| Steering Type | 2WS |
| Wheel Width | .48" (12.4mm) |