1/18 Yeti Jr. Can-Am Maverick 4WD Brushed RTR
1/18 Yeti Jr. Can-Am Maverick 4WD Brushed RTR
Product Details
Key Features
Licensed Can-Am Maverick body and wheels
Spektrum STX2 2.4GHz transmitter
Spektrum waterproof ESC/Receiver Combo
Dynamite 37T brushed electric motor
High-torque metal gear servo for rough offroad conditions
In The Box
(1) Yeti Jr™ Can-Am® Maverick X3 RTR Car
(1) Spektrum 2.4 GHz STX2 Transmitter
(1) 7.2V 6 Cell 1300 mAh NiMH Battery Pack
(1) USB NiMH Charger
(4) AA Alkaline Batteries
Spare Parts and Tools
(1) 1/18 Yeti Jr. Can-Am Maverick 4WD Manual
Needed to Complete
Nothing! Everything you need to begin having fun with the Yeti Jr™ Can-Am® Maverick X3 is included!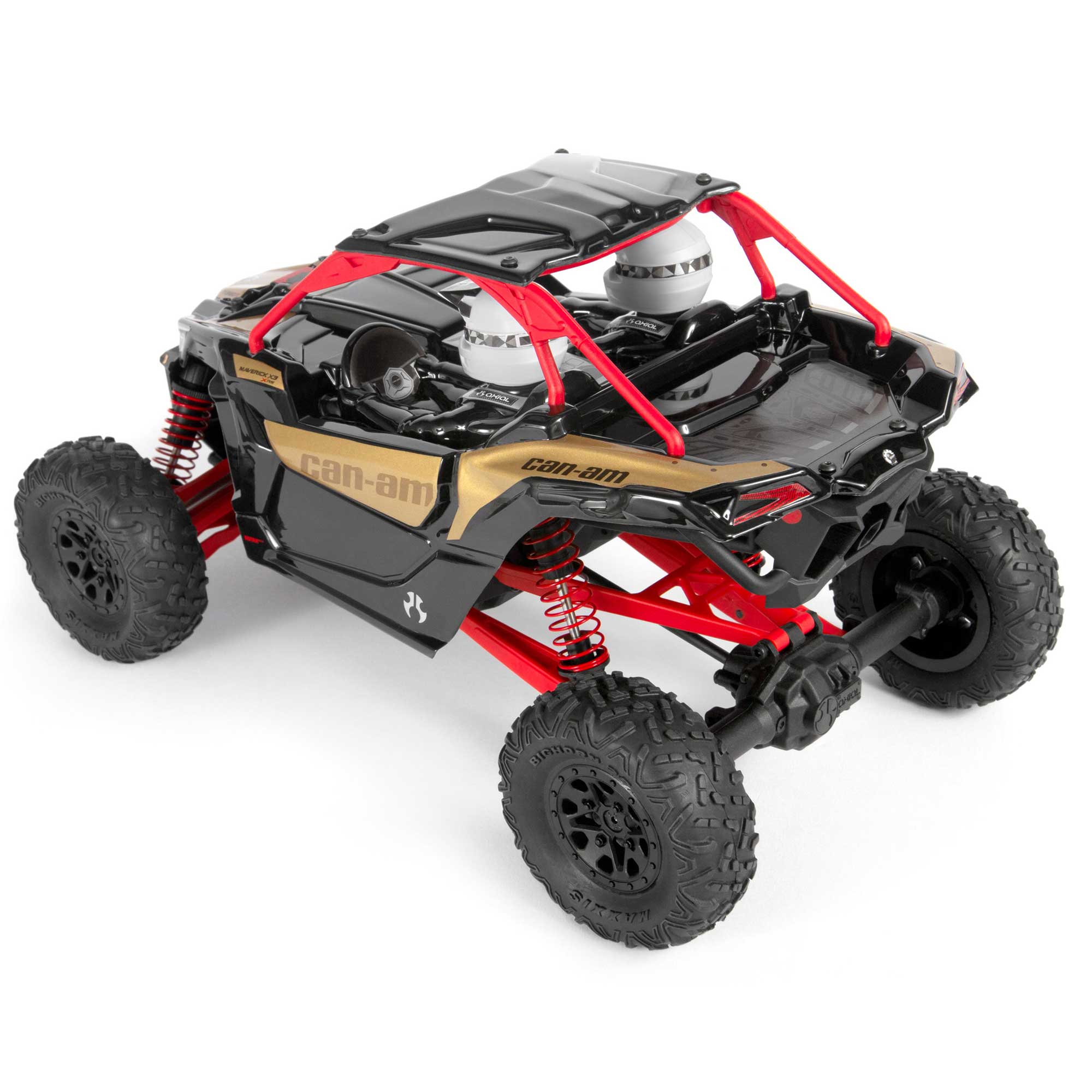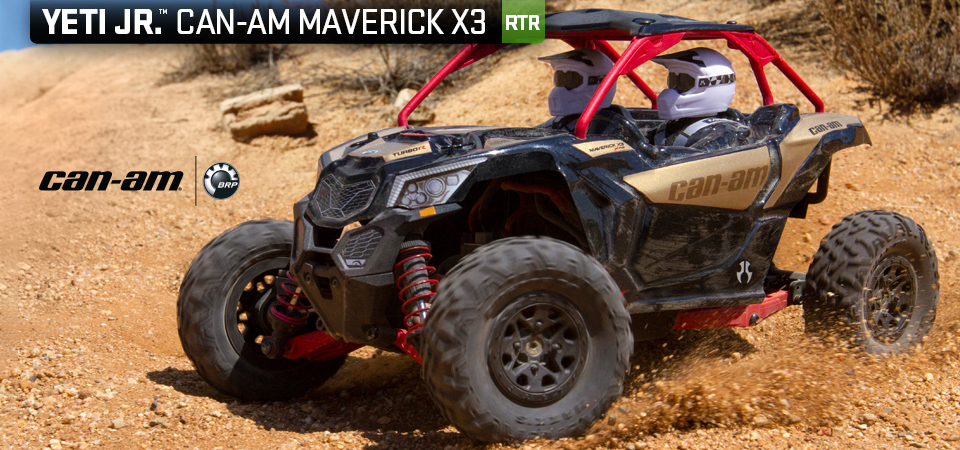 Features
Licensed Can-Am Maverick body and wheels
Licensed Maxxis Bighorn 2.0 tires
Spektrum STX2 2.4GHz transmitter
Spektrum waterproof ESC/Receiver Combo
Dynamite 37T brushed electric motor
High-torque metal gear servo for rough offroad conditions
AR18 solid rear axle with ample ground clearance
Adjustable coilover shocks
Three-linked rear suspension for improved handling
Independent front suspension for high speed stability
Rear hinge body mount system
48P gears give you more possible configurations
Adjustable motor mount and easy access chassis
Full vehicle ball bearings
Adjustable battery tray
Centered rear driveshaft for efficiency
Easy to Use USB Charger Included
Overview
The Yeti Jr™ RTR takes everything you admire about the 1/10 scale Yeti chassis and shrinks it down to 1/18 scale - then tops it off with a licensed Can-Am® Maverick X3 body for a fun 4WD that anyone can handle. Out of the box, this tiny terror is ready for scale adventures!
Before the Yeti, the only place to find an independent suspension with floating solid rear axle was in full-size off-road vehicles. Axial carried its advantages over into RC rock racers and crawlers. The suspension design give the Yeti Jr responsive handling, increased clearance, and improved stability at high speeds. Its included 380-size motor adds the perfect amount of speed and torque. When that muscle meets the tread of the Maxxis® Bighorn 2.0 radial tires, you've got all the traction you need for fast, smooth rides over virtually any surface.
Video Overview
Spektrum STX2 Transmitter
The STX2 2-channel radio system offers many features of higher-end 2.4GHz radio systems like throttle/steering reversing, throttle/steering travel adjust & throttle limiting.
Built-in 3-position throttle limiter
Steering & throttle rate & trim adjustments with throttle and steering reversing
FHSS 2.4GHz protocol offers extended range and interference free performance
AA batteries included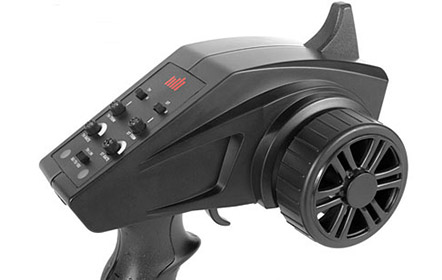 Spektrum ESC/Receiver Combo
The Spektrum ESC/Receiver is an all in one unit featuring an EC3 battery connector, a convenient on- off switch and it's water resistant for peace of mind when water splashes on your electronics.
WARNING: This product is only compatible with NiMH batteries. Do not use a LiPo battery or fire causing serious injury or damage to property may occur.
37T Brushed Electric Motor
Delivering an even balance of speed and technical adventuring, the Dynamite Tazer 380 37T motor features a worry-free design with enlarged cooling ports for extended periods of use. The motor is paired with a 15T pinion and 60T spur gear for extra speed!
37T, 380 size motor
Waterproof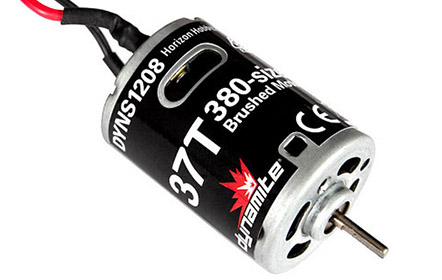 Metal Gear Servo
Steering is powered by a Spektrum high torque micro servo, featuring a metal gear train to help withstand rough offroad conditions.
4.8V Torque: 34.9 oz-in (2.5 kg-cm)
6.0V Torque: 41.8 oz-in (3.0 kg-cm)
4.8V Speed: 0.09 sec/60°
6.0V Speed: 0.08 sec/60°
Dynamite 1300mAh NiMH Battery
The included Dynamite 1300mAh NiMH battery pack features a convenient EC3 connector and a 1300mAh charge capacity.
Type: NiMH
Connector Type: EC3
Capacity: 1300mAh
Cell Size: 2/3A
Voltage: 7.2V
Configuration: Flat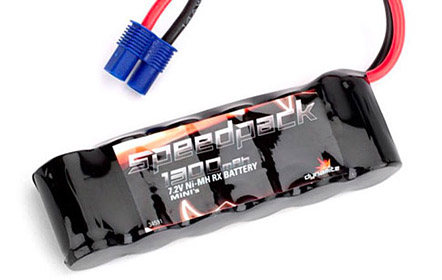 Dynamite USB Charger
The Dynamite 6-Cell NiMH USB battery charger is small, compact, and easy to operate. Simply plug into a USB power source and plug the NiMH battery into the charger and you're charging.
NOTE: For use with 6-cell NiMH batteries only.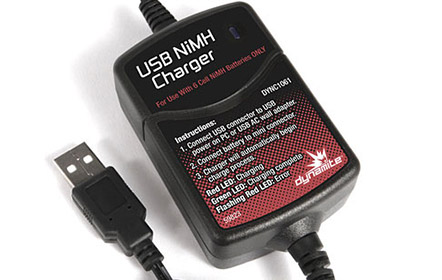 AR18 Solid Rear Axle
To help keep the scale premise in check, simply shrinking down an existing axle was just not an option. In keeping the proportions correct along with yielding ample terrain clearance a new axle was designed, the AR18. Features include a compact two-piece design, captured pinion gear, and three-linked rear suspension with integrated sway-bar like support design for improved handling.
Rear suspension features:
8mm axle with 12mm hex adapter
Open diff
61mm-90mm 7mm diameter shocks with 3mm shocks shafts
Multiple shock mounting positions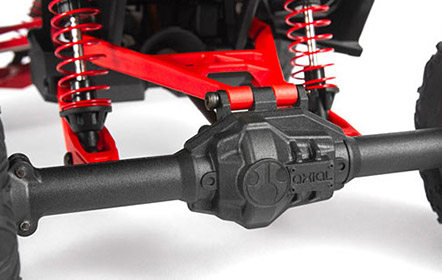 Adjustable Coilover Shocks
The threaded shock bodies hold a single coilover spring. They are oil filled and allow you to tune the dampening rate.
46mm-63mm 7mm diameter front shocks
61mm-90mm 7mm diameter rear shocks
3mm shock shafts
Three-Linked Rear Suspension
The Yeti Jr.™ features a three-linked rear suspension design with integrated sway-bar like support for improved handling. The rear axle has upper and lower mounting points for the trailing arm, allowing you to fine tune your suspension setup.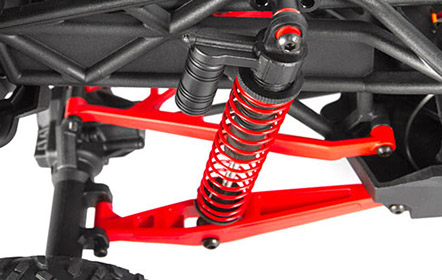 Independent Front Suspension
The Yeti™ Jr. is equipped with an Independent Front Suspension (IFS) system to help maintain high-speed stability when running through a diverse range of terrain. The IFS system allows you to better control the intended direction of travel at high speeds when one side is adjusting to overcome road obstructions. The stability that the IFS front end provides is paramount for off road racing.
Front suspension features:
Machined aluminum CVD's
8mm axle with 12mm hex adapter
Open diff
2.50mm hingepins
46mm-63mm 7mm diameter shocks with 3mm shocks shafts
Multiple shock mounting positions
Rear Hinge Body Mount System
The body mount system allows easy access to the electronics with only the removal of two body mount clips.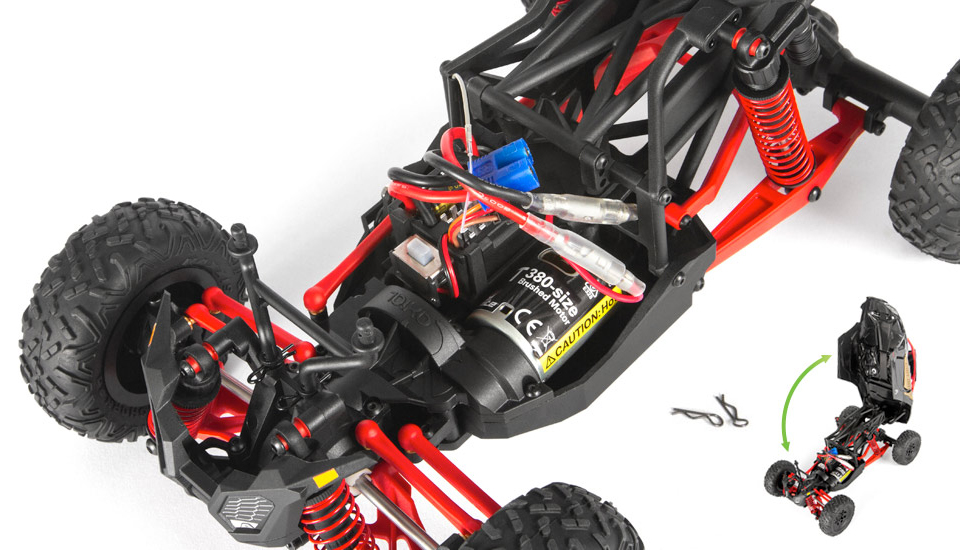 48P Gears
No micro gearing here, instead the drivetrain features 48P gears, which is not only a robust design but also expands the number of possible gearing configurations. The spur gear is mated to a 15T metal pinion gear for optimal gearing.
Adjustable Motor Mount
Adjusting gear mesh to accommodate different sized pinion or spur gears has never been easier with the help of a cam style motor mount design. The front top plate secures the cam motor plate in place and all the screws thread down into the chassis, eliminating the need for extra-long hex drivers in order to secure the motor and gear mesh.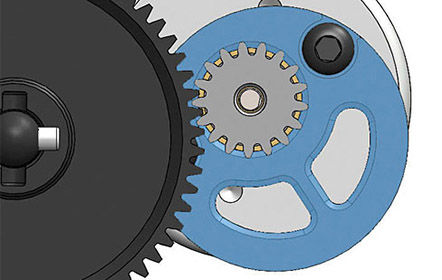 Full Ball Bearings
Just because the Yeti Jr. is smaller in size doesn't mean the features need to follow suit. No bushings found here, instead the Yeti Jr. drivetrain is freely spinning on sealed cartridge bearings throughout the entire vehicle.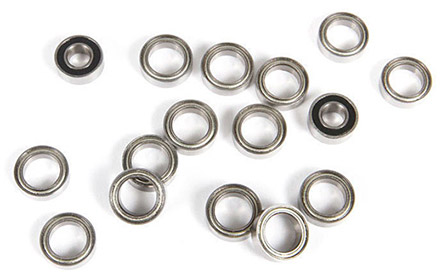 Maxxis Bighorn 2.0 Tires
Maxxis Bighorn 2.0 tires feature a non-directional tread pattern that is suitable for use in a wide variety of conditions such as hard packed dirt, soft terrain, and traversing scale trails in your backyard!
Can-Am Wheels with 12MM Hex
The stylish and sturdy Can-Am wheels feature a standard sized 12mm hex for a strong, durable fit.
Adjustable Battery Tray
The battery tray is fully height adjustable with multiple configurations available. It's easily changeable between 6-Cell NiMH battery packs or smaller battery packs. The integrated battery tray can be easily accessed without having to remove any body clips or even the body, allowing for quick battery swaps.

Centered Rear Driveshaft
The rear driveshaft is centered for efficiency, and is mated to the rear differential outdrive which is captured by a bearing to keep things running smoothly.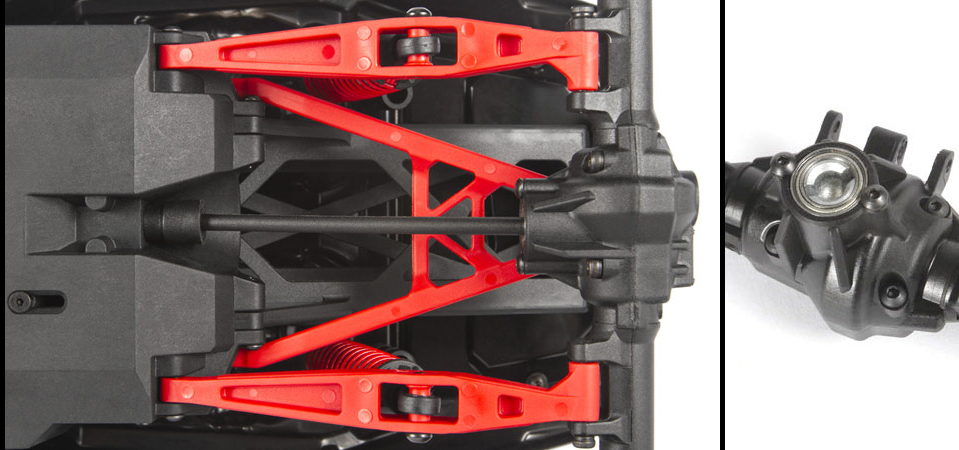 Product Specifications
| | |
| --- | --- |
| Front Track | 6.9" (175mm), distance from outer edges of tires measured side-to-side |
| Outer Diameter | 2.8 in (72mm) |
| Product Width | 7" (177.8mm) |
| Radio | Included |
| Connector Type | EC3 |
| Ground Clearance | 1.1" (27mm) |
| Motor Size | 380 Brush Equipped, 37 Turn |
| Product Length | 11" (279.4mm) |
| Spur Gear | 60T |
| Steering Type | 2WS |
| Suspension | Front-Independent, Rear-3-Link w/integrated sway bar like support, AR18 2-pc solid rear axle w/captured pinion gear |
| Approximate Assembly Time | No assembly required |
| Body | Can-Am Maverick X3 UTV, trimmed and painted, rear hinge body mount system |
| Pinion | 15T |
| Scale | 1/18 |
| Ball Bearings | Full set, sealed cartridge type |
| Chassis | Molded tub style with rear trailing arms |
| Completion Level | Ready-To-Run |
| Drivetrain | 4WD |
| Product Height | 6.5" (165.1mm) |
| Power Type | Electric |
| Gear Pitch | 48-Pitch |
| Product Weight | 1.6lbs (0.7kg) |
| Tire Tread | Bighorn |
| Vehicle Type | Rock Racer |
| Water-Resistant | Yes |
| Motor Type | Brushed |
| Rear Track | 6.9" (175mm) distance from outer edges of tires measured side-to-side |
| Speed Control | Included |
| Wheelbase | 8.1" (205mm) |
| Charger | Included |
| Differential | Bevel gear 35T/15T |
| Receiver | Included |
| Shock Type | Coil over, oil-filled, 3mm shafts |
| Wheel Type | Plastic, black in color, 12mm hexes |